Old City Rental Review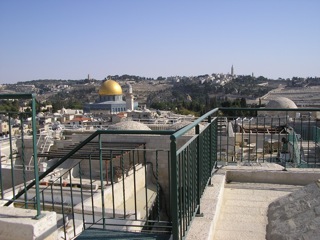 BS"D
I am writing this review so that others can benefit from these wonderful accommodations like myself and family did on Chanukah 2012. In this apartment you would not want to stay inside since you have a double porch. The lower level with a table and chairs and the upper level with a view of the Har Habayis and Yerushalayim that you usually see in magazines. If I could, I would have spent my entire week sitting there enjoying the view.
The location of the apartment is literally 2 minutes to the Kosel once you learn your way, and 3 minutes coming home because your going up stairs. You are 45 seconds from the main square with shopping, restaurants, the Churva Shul. If you are looking for a true Old City experience this is the place for you. 
 The apartment was secure with high tech locks and safety doors. During the day the apartment was well lit from the many windows and kitchen skylight, with very good lighting for the evening. each room room has individual AC/Heat.
See photos of this Old City Rental here...
The kitchen is dual sink with full size double oven and single stove and a single microwave. Everything is clearly marked Dairy and Meat. The kitchen is adequate for a vacation home, with limited counter space.
Shlep less clothing and take advantage of the built in washer/dryer. You have two full bathrooms, one with a bathtub the other with a shower, both very modernized.
There are 2 bedrooms, the master bedroom has its own bathroom. The master bedroom has a view of the the top of the Har Habayis. The living room has a pullout sofa that sleeps two. The master bedroom has only a double bed with no real space to put another bed. (a possible challenge for a religious couple especially if teenage children are with you).
 How to rent this great Jewish Quarter Apartment
This an Old City apartment, therefore certain things must be taken into consideration. For myself and family it was not an obstacle but I mention it for the knowledge of others. You cannot drive up to your apartment with your luggage. You will need to self transport your luggage from the closest the cab can get you to, then walk over non smooth pavement (Jerusalem stone) for about 6 minutes. Luggage with good wheels is essential. You may be also going down or up steps as well. When leaving, you will need to do the same to get your cab.  The apartment is on the second floor, with about 20 non consecutive steps. My children were with me on the trip, as well as my son learning in Yeshiva to meet us, therefore it was no challenge.
M.M. & family, Miami, FL
December 2012