About Renee and David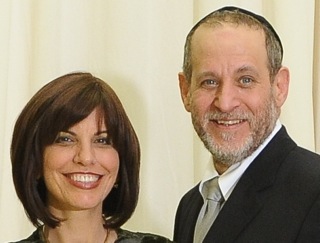 Thanks for taking the time to learn about us and our company. First of all, we think it is wonderful that you are considering spending time in Israel. We made our first trip here on our 12th anniversary in 1994. During those 10 days here, we began to realize we had come home. After years of longing to put down our roots in Jerusalem, we set an aliya date and B"H in 5767/2007 we fulfilled our dream, and the dream of generations before us and made Israel our home. (See Renee's blog for the whole story)
In those years between our first trip and our aliya, we came to visit often. Almost every time, we chose to rent an apartment instead of staying in a hotel. It did not take many visits to learn how many definitions of "well-maintained" there are in this country. As a result of our disappointment with accommodations, we never rented the same apartment twice.
You see, we have been in your shoes before. As the owners of long term rental homes in Atlanta and a short term vacation apartment (600 miles from Atlanta), we know how hard it is to manage your own real estate when it is not your primary business focus.
What Can We Do For You?
Wouldn't you like to have repeat customers? Wouldn't you like to have your best tenants recommend your home to their friends and family? You need to have reliable, trustworthy and accommodating management in order to garner successful rental income.
In America, we owned a sales organization for 14 years. While we owe our success solely to Hashem, we learned that our efforts bore fruit only when providing our customer with: trustworthy customer service.
Our honesty, follow-through, and creative solutions in partnership with our vendors, buyers and staff were not only the key to success, but also the door to great relationships which we still enjoy today.
Our success enabled David to spend time to helping our Atlanta community to build a new day school and to learn with our outreach kollel. Renee applied her organizational skills to many school fund raising projects and a chesed/leadership group for middle school girls. We were honored to have a home that overflowed with orchim visiting Atlanta for simchas and business. We especially enjoyed hosting people who where just learning about the beauty of Shabbos.
Now, we have the zechus of hosting those same visitors as well as many old friends on their visits to Israel. We look forward to the day when those families will be able to join us in making the Jewish homeland their home, too.
Bayit Shelachem, Bayit Shelanu
We are happy to provide property management services in Jerusalem. Because of our personal attention and care, your property is in reliable hands. Regular visits to the property, maintenance support and supervision, lease renewals, dispute resolutions, rent collection and bill settling are some of the services you can expect from Israel's Trusted Property Management.
An exciting and growing facet to our business is in helping Anglos to purchase apartments in Israel. We work with several agents to find opportunities for you, hold your hand throughout the buying process and eventually maintain the investment and find either short or long term renters according to the new owner's wishes. Thus, we have created a buying service that has helped many achieve their dream of owning in Israel without enduring a bureaucratic maze.
Learn more about how TPMI brings American Customer Service to buying a home in Israel
We hope you'll contact us soon.